THE PROJECT
Opening in Milan is an area for cultural and creative immersion, a hotbed of ideas, projects and activities in 7000 m² of space where visitors can immerse themselves in an all-round experience.
Mostrami Factory @ Folli50.0 is the project started by Bracco Foundation in the historic headquarters of the Bracco company, in via Folli 50 in Milan, conceived and coordinated by Mostrami. It will be a creative factory where the arts can find their dimensions in harmony, contaminating each other, creating positive interactions between painting, sculpture, photography, video art, street art, music, theatre, Cinemark, dance and courses for all ages.
The Factory, starting from the FuoriSalone from April 13-19, 2015 and during Expo 2015, from May 14 to November 1, 2015, will host young contemporary artists from all over Italy, musical groups, independent theatre companies, dance shows, film evenings and much more.
It will also offer laboratories open to all those who share a desire to meet, get involved, take part and immerse themselves in another dimensions. With this spirit of reciprocity and openness, the cultural and social activities of Folli 50.0 are offered free to the city: the factory is at work in a continuous dialogue with visitors.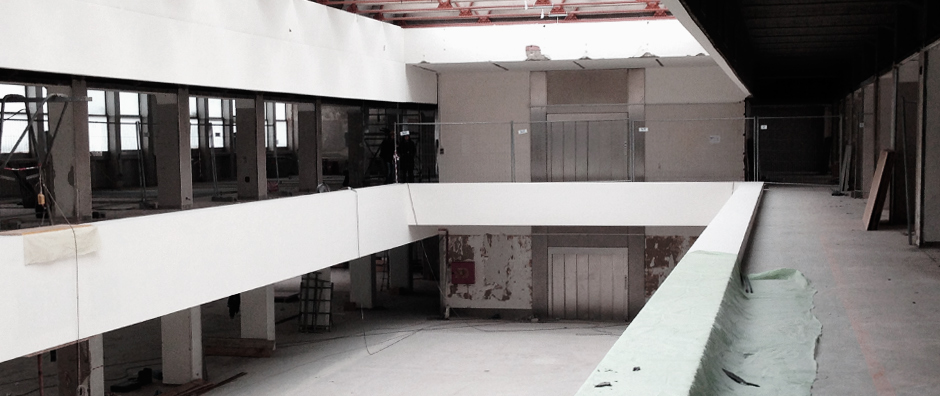 ACTIVITIES
Exhibitions and installations
Young contemporary art, the main focus of the project, will take shape in a full programme of exhibitions and installations in the FuoriSalone week from April 13-19, 2015 and during Expo 2015, from May 14 to November 1, 2015.
The link with the Universal Exhibition will be reflected in the adoption of the main themes of Expo 2015, starting from the first exhibition on "Urban Nutrition", in its varying shades, seen as interaction between people and cities.
Through exhibitions and installations, created by young artists with differing languages of expression, art will be in continual dialogue with visitors.
Laboratories and workshops
Do you want to produce contemporary painting? Do you want to challenge yourselves with new and enriching artistic activities? Or do you simply want to get away from the daily routine and immerse yourself in a world where art is the protagonist?
Bracco Foundation and Mostrami Factory @ Folli 50.0 offer all those who want to engage in new activities the chance to take part in laboratories, courses, workshops and free talks on painting, reading, recycling, photography and much more.
New training activities will be offered every week and everyone will find a laboratory to suit their needs: from children to adults, aiming to involve families to create an inter-generation dialogue.
Entertainment 
Folli 50.0 is also a place of entertainment, encounters and leisure with involving evenings where collaboration with cinemas, dance halls, music bands and DJs becomes the essential ingredient for creating a versatile and eclectic space.
DJ sets for grooving to the rhythm of electro, house and lounge music, live music with jazz and blues rhythm, dance evenings with the retro rhythm of the dance hall, open-air cinema to rediscover old classics and new films, theatre that will enthrall with new dramas every time.
Besides nourishing the mind and spirit, Folli 50.0 will also nourish the body, with cookery courses and a wide range of "street food".
There will also be a roomy restaurant to take a break during activities and exhibitions or to have a bite to eat after an afternoon immersed in contemporary art.
hash flair
best cloud mining service